The Black Hills of South Dakota Pack Trips
The Black Hills of South Dakota have always had a mystic about them from the early days of the Indian cultures, Custer, the gold seekers, homesteaders to the present day. From approximately 100 miles east of the Black Hills , you can see them off in the distance. Black & looming. A magnet drawing you towards the beauty of the Black Hills .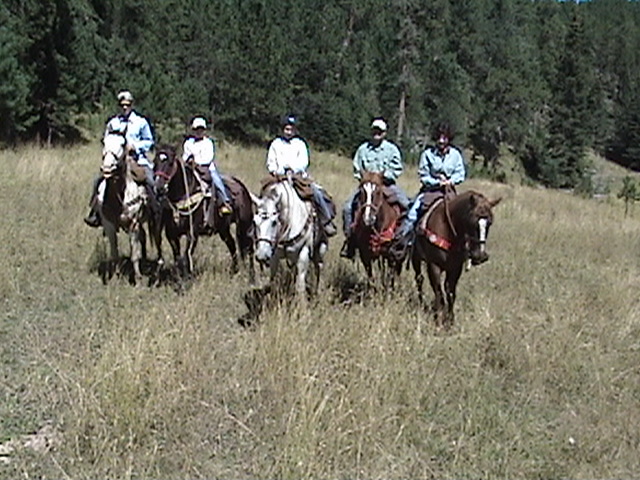 Big meadows, clear streams, wide open spaces, safe, trail wise horses, cowboy cooking, range tents with floors and zippers, bright days and starry nights, cowboy songs and poems, all add up to an adventure of a lifetime.
In 2015, we started a New Adventure in the Hills. We started out at the corrals, just south of Deerfield Lake on Ditch Creek. We rode South for one day and camped. 2nd day, we turned West and rode for one day and camped, 3rd day, we rode North for one day and camped. 4th day, we rode East and ended up at the Ditch Creek Corrals on Six Mile road. We did not have the slightest idea, where we would end up each day, which to me, took us back in time to the old days, when the Black Hills were unexplored. Everyone helped with the camp chores and care of the horses, so they were part of the adventure. We did the same type of ride in 2016 and we had a great time. In 2017 we had a six day Black Hills backcountry pack trip, per the guests request. We then had time to stay in one camp more than one nite. Another 4 day Black Hills back country pack trip is in the higher hills, where we camp near the headwaters of Spring Creek. That spring is so clear and cold it tastes great. We do day rides out of that camp.
If any of these Black Hills back country adventures fit into your bucket list, join us at your convience, late June through August for the adventure of a life time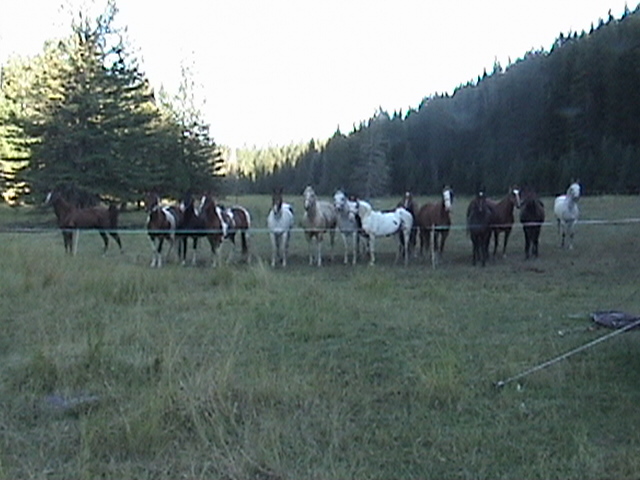 The price for this awesome Black Hills of South Dakota Adventure is $400.00 per day, per person, plus 6% state sales tax. We accept Master Card, Visa, Cashiers Checks, and Personal Checks. A deposit of 50% is required to hold your reservation with the balance due 30 days prior to the start of your Black Hills Adventure. (We offer a $100.00 deduction if you book your adventure prior to January 1st, 2018)
The area we will go into, you just canít see from the road. Join us .
See you on the trail !